2020.9.0 - 9/29/2020
New Features
Post-Processing: Bloom

Have you always wanted to add a satisfying glow to your experiences? Or make your scene look like something out of Tron or a video game? Well, you're in luck!

New to Enklu Cloud this release is our first in-editor, post-processing shader: Bloom! You can access Bloom settings in your project by navigating to the Scene Settings tab, on the left sidebar of the editor.

For more information on Bloom, check out our official guide here.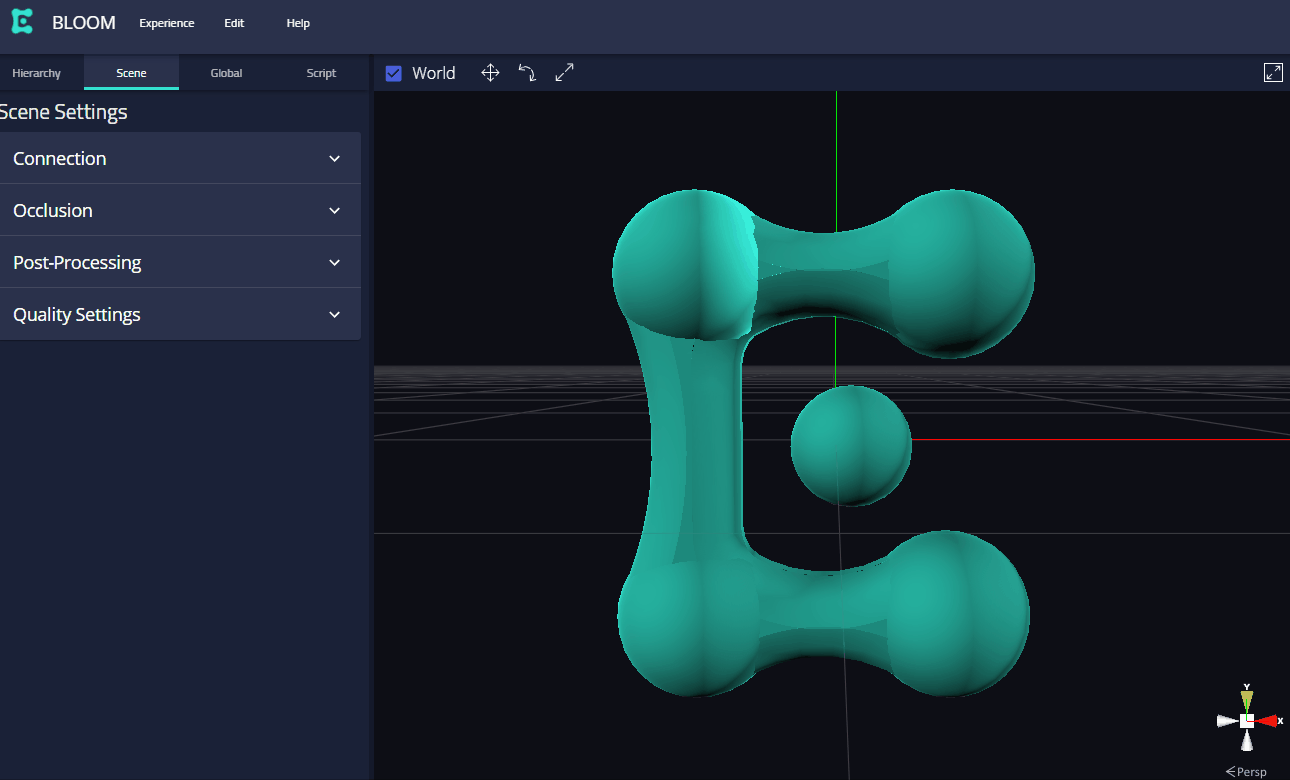 Improvements
Scripting UI/UX

Finding and editing a script in Enklu Cloud has never been easier with our improved Scripting UI! There's now a dedicated tab for your Scripts right next to your Assets.

We've also reduced the clicks it takes to edit your script, making it even easier to alter your asset's scripts. Click the thumbnail of the script on an asset, and it will pull it up on the Script tab on the left sidebar of the editor!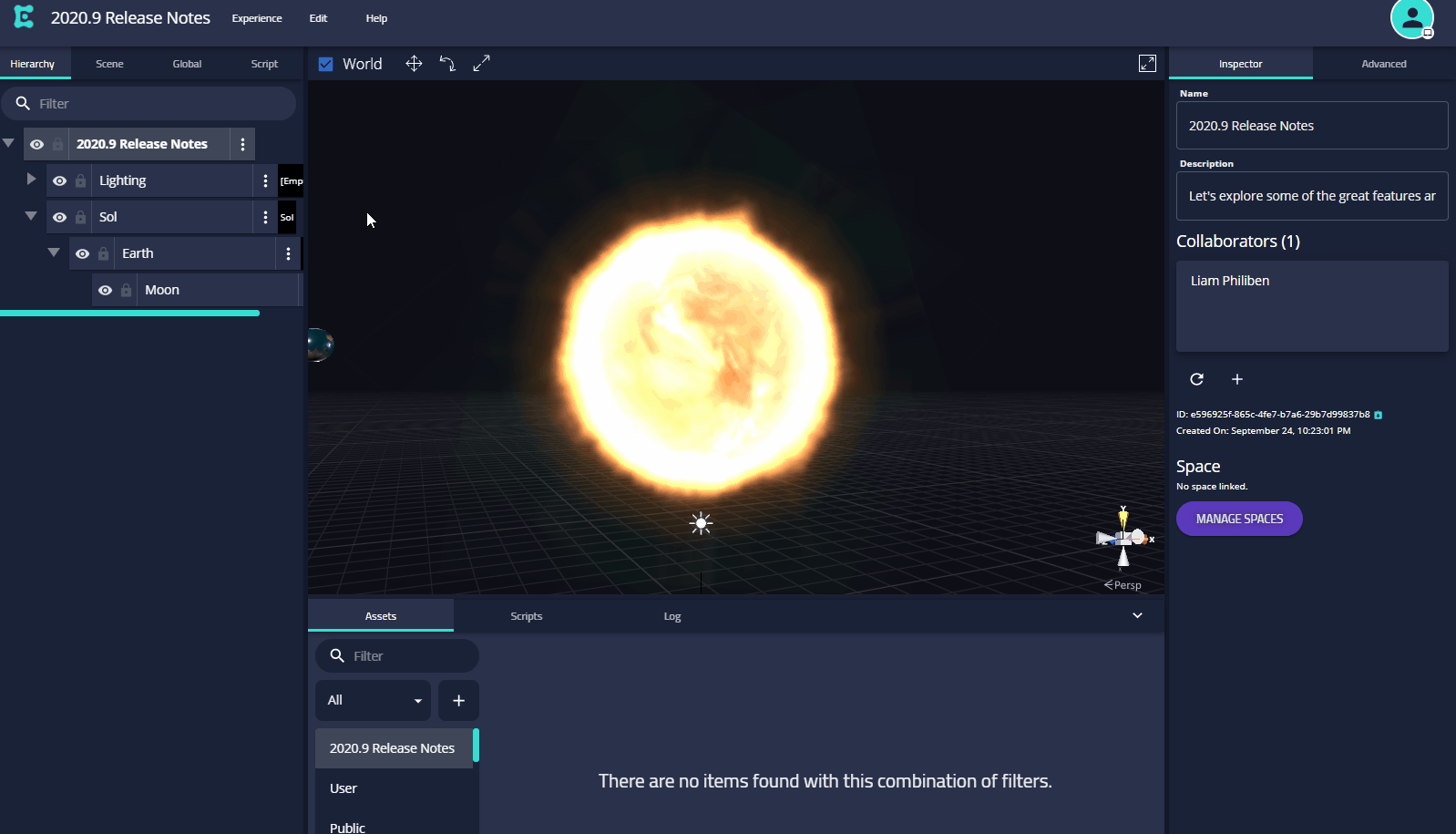 Scene Settings

Along with Bloom comes a UI revamp of the Scene Settings tab on the Hierarchy Window. We've placed each section in their own collapsable menu. This will allow you to find the scene settings you want to change without having to scroll too far.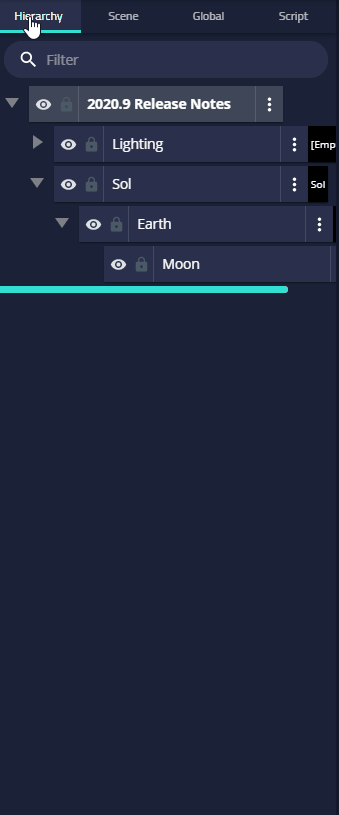 Rendering Performance

Experiences with a very large amount of assets should now see a performance boost! Before, rendering performance would degrade as scene density increased. Now, it will no longer add extra rendering complexity past the expected rendering cost of your asset (which is based on mesh or shader complexity).
Fixes
Live Update

We've fixed a bug that would've disrupted live updating after a device reconnects to Enklu Cloud after getting disconnected from the internet. Users are now notified upon reconnection if any changes have been made while they were offline.
Misc. Bug Fixes
Logging: Introduced the ability to log null, and raw json without exceptions.
TouchJs: Adjusted hit.position and hit.normal so that they are now proper Vec3s.
Avatar icons: Fixed an issue that caused leaked icons, missing device thumbnails, and empty abbreviations for the user.
Fixed a bug that caused the Articulated Hand controller to fail at app start.
Null scripts are no longer saved in the editor.
New scripts from collaborators are now acknowledged in the project file.
Fixed a bug that caused exceptions while using SAI after switching experiences.
---
2020.8.0 - 8/26/2020
New Features
UI Refresh

Dark Mode has arrived! All the power of Enklu in a sleeker, more accessible interface 😎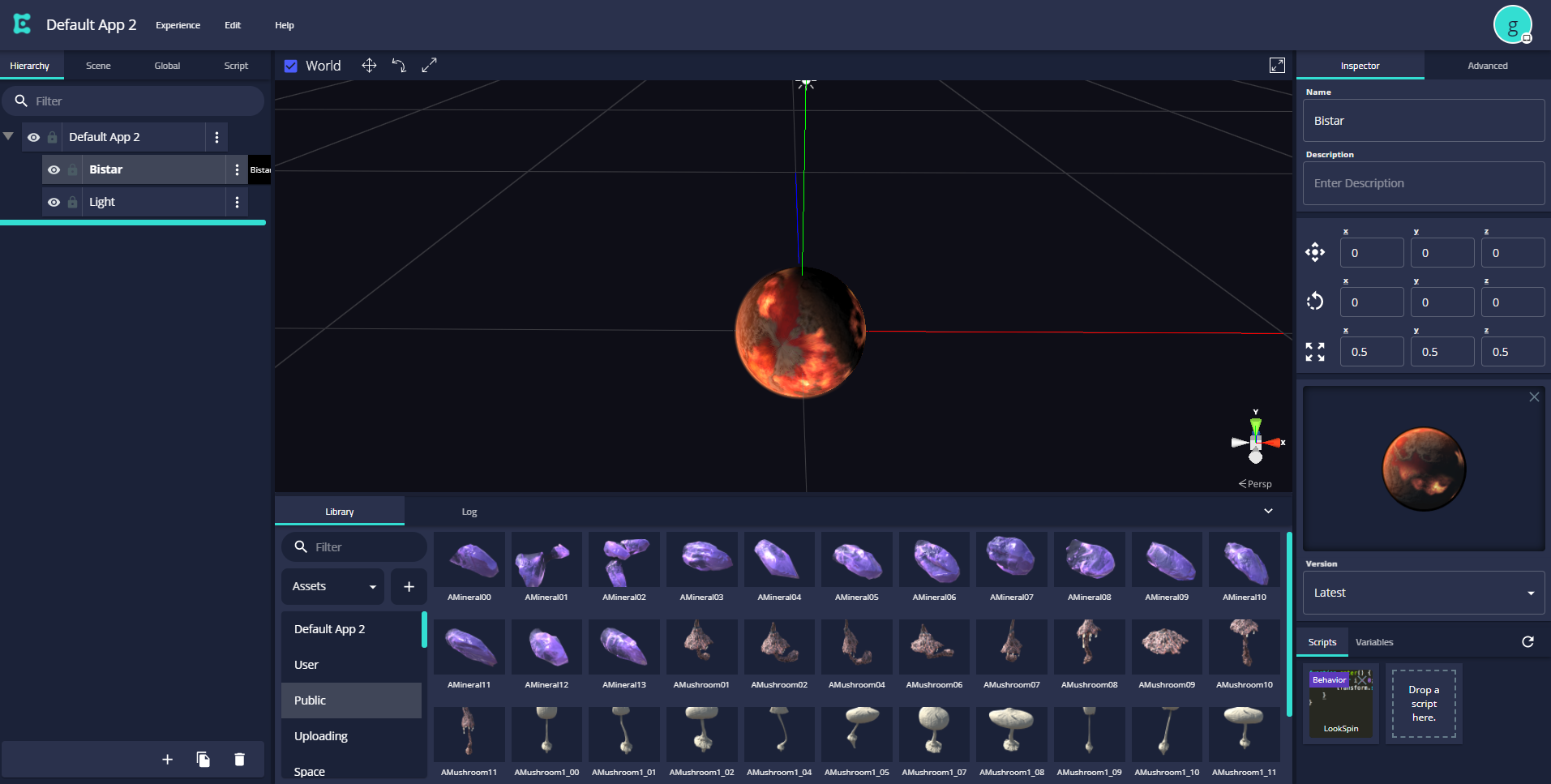 Video Capture

We've made it much easier to capture videos of your experiences -- no code required. You can now start a recording from the main menu (say "Menu" while an experience is playing) or by simply saying "record." Once you've finished, the video will be delivered to your inbox.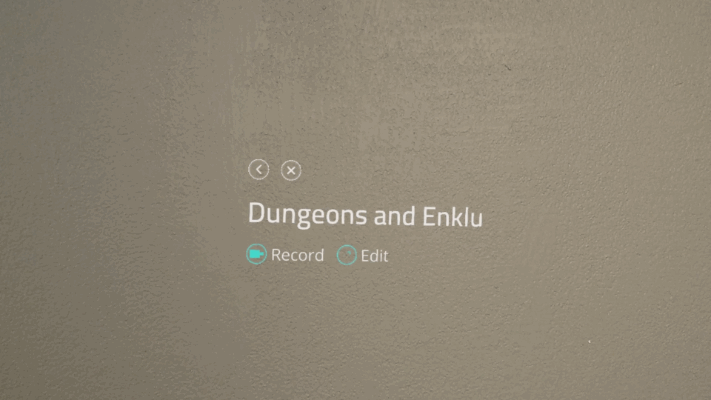 Remote Logging

You can now stream logs from your HoloLens to the Enklu Cloud web editor. This greatly improves your ability to debug experiences in real time.

Hand Occlusion

On HoloLens 2, hands can now occlude holograms in an experience. This feature is opt-in and can be enabled in the Enklu Cloud web editor.
New Graphics API

The new Graphics Scripting API allows power users to interact with your materials and shaders at runtime.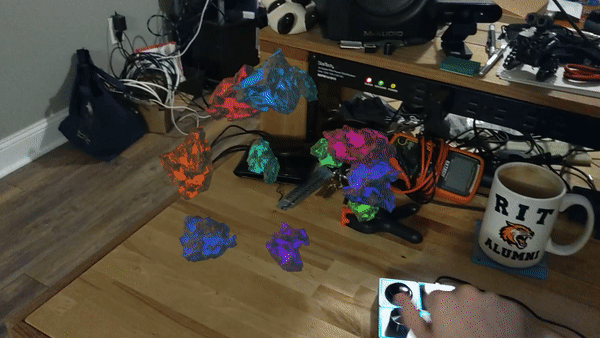 Enklu Node SDK

We have created a new Open Source SDK to help external devices communicate with your experiences. Connect buttons, talk to your own servers, or even sync your stage lighting! See our guide to get started.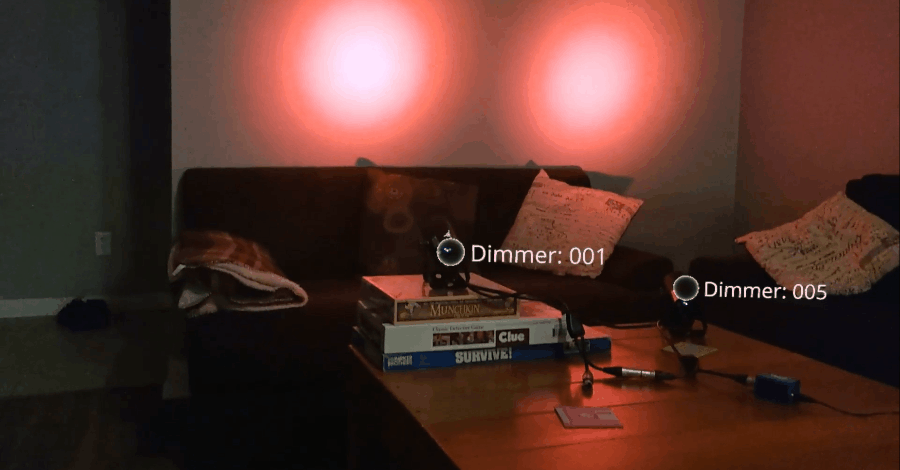 Improvements
Logging, both in the HoloLens and the Enklu Cloud web editor, now contains more detail and is more informative.
When scripting in the web editor, you can more smoothly animate rotation with linear interpolation and spherical linear interpolation.
In behavior scripts, it is now possible to work directly with an element's world position, rotation, and scale.
Fixes
We have fixed several conditions that might lead to the user being stuck in the Loading screen.
Voice commands will continue to work after the app has been in the background for awhile.
---
0.50.0 - 8/13/2020
Improvements
Users can use ctrl-f in the script editor to search within the file.
Users with permissions to update an asset can also update its thumbnail.
Fixes
If an email address has a special character like "+", it will now show up in collaborator searches.
Updates to asset thumbnails are reflected immediately.
Fixed an incorrect link to documentation.
---
0.49.0 - 7/9/2020
New features
Spaces provides effortless anchoring of content in your environment. For more information, refer to our docs. Includes better visualization of meshes in-lens, as well as scans that are less blown out by lighting in the web editor.
With Mesh Occlusion, experiences can have much deeper immersion with the physical environment. Spaces come with mesh occlusion by default, with the ability to turn it off via the Enklu Cloud web editor.
A new Notification system that enables messages to be queued and displayed in front of the user.
Improvements
HoloLens edit mode starts out more sleek. Fewer windows start infront of the user letting them view their scene better.
Float widgets don't default to showing their focus point.
Anchors are batched together, reducing file size dramatically.
Vine text/buttons are occluded by default now in new experiences.
Fixes
Schema is properly chained/inherited during Element construction.
Vines properly inherit their parent's schema.
Button icons can now be occluded.
Double cursor in experience list is removed.
Hidden buttons no longer can activate with voice commands (an audible bloop is still heard currently however).
Leaked GameObjects are cleaned up when exiting edit mode.
---
0.48.0 - 7/6/2020
Improvements
Better support for eye gaze.
Float UI elements are more responsive.
Cleaner color scheme and fonts.
Expanded metrics support
Bug fixes
Experience loading screen might start behind user.
Some menus couldn't be closed.
Experiences sometimes didn't load if an asset failed to load.
---
0.47.0 - 4/30/2020
Features
Users can create a new element by dragging an asset from the library and dropping into the hierarchy.
New users have access to Chapters 3 & 4.
Improvements
The menu item Help > Support links to a new feedback page.
Fixes
Fixed an error that occasionally appears when an Undo action removes an element.
---
0.46.0 - 4/16/2020
New Features
New Scripting API for player scores (preview). Docs are here
SAI can display prompts with button responses (preview). Docs are here
Unity users can convert a scan mesh to a .obj.
Improvements
Renamed the Unity menu "Tools" to "Enklu".
Fixes
Fixed error where calling undo resulted in an error
---
0.45.0 - 4/2/2020
Features
Undo/Redo via Edit menu or hotkeys (ctrl-z/ctr-shift-z on windows, cmd-z/cmd-shift-z on mac)
New experiences start with 3-point lighting
New users get Chapters 1 & 2
Improvements
Scenes to build are defined in Build Settings, not hard coded.
Updated ace text editor
Order of elements at the same depth of the hierarchy is now stored and respected
Fixes
Fixed issue where dragging elements in the hierarchy sometimes failed